There are millions of different parts available. The parts you select are between you, your sense of style, and the size of your wallet. I'm a member of the "you get what you pay for" school of thought but after many hours on the web researching prices, I'm convinced that you can easily pay more than you need to.
The front brake caliper is a good example of extreme price variation for the exact same part. I wanted the front caliper to match the rear pulley brake caliper. It is a decent quality DNA part with P/N M-BC-1002. Prices varied from $274 ( on sale ! ) to the $152.95 I eventually paid. The DNA website has the part available for $288!
http://www.trydnastore.com/
Another example of extreme price variation is the starter motor. Prices are all over the map. The Thunderfire 1.75kW Starter Motor ranges from $329 to $134 for exactly the same part from the same manufacturer. Obviously I ordered the $134 part from
Jireh Cycles
which includes free shipping. Ultima P/N 70-225. According to Ultima, the 1.75kW unit is a good match for the 113 cu.in motor.

Here's the parts list so far with the ebay member id or website as applicable. Most parts have been purchased off ebay:


DNA 65 Tooth Brakester Pulley Brake.
Malibu Motorcycleworks
$500. Elsewhere $881 and up
DNA FRONT BRAKE CALIPER KIT 4-PISTON BILLLET CHROME NEW
mototeks
( 1771) $152.95 elsewhere $274
MOTORCYCLE LED SIDE AXLE MOUNT PLATE HOLDER BRAKE LIGHT
2wheelproject ( 467) $49.98 elsewhere $74 and up
http://stores.ebay.com/2-Wheel-Project?_trksid=p4340.l2563
Ultima Programable Ignition for Harley Davidsons
gopartsce
( 1690) $145.00 elsewhere $199
NOTE: The Ultima motor comes with the electronic ignition module installed. You don't need this kit. All you need is the single fire coil and plug wires. It is more cost effective to buy the coil and plug wires separately. However, the ignition module in this kit is more advanced that the one that comes with the motor so it could be a useful upgrade.
Ultima Plus Complete Electronic Wiring System
jirehcycles
( 3330) $172.95 elsewhere $195
connectors are Amp/Tyco Mate-N-Lock.
Custom Chrome Rotor Bolts For Harley Davidson Front HD
mbsmfg ( 13412) $7.99 elsewhere $12.99
5/16"-18 x 1" Allen Button Head Chrome Bolts
'84-'99 STAINLESS SATINED HARLEY 11.5" HD BRAKE ROTOR
bididi-bodidi-bu
( 532) $45.71
This part is as advertised but I should have chosen a polished finish. I'll live with it for now.
2 BILLET CHROME ADJUSTABLE MIRRORS MIRROR Z FIT HARLEY
demonscycle ( 63031) $34.97 with free shipping. This is a good deal. I have seen these mirrors in the $70 range.
http://www.demonscycle.com/
DUAL WAVE ET MOTORCYCLE HEADLIGHT FITS HONDA YAMAHA BMW
demonscycle ( 63031) $73.99 with free shipping
http://www.demonscycle.com/
SPEAR CHROME BILLET FORWARD CONTROLS FOR HARLEY BIGTWIN
demonscycle ( 63031) $219.99 with free shipping
http://www.demonscycle.com/
2wheelproject
( 467) $27.98 elsewhere > $44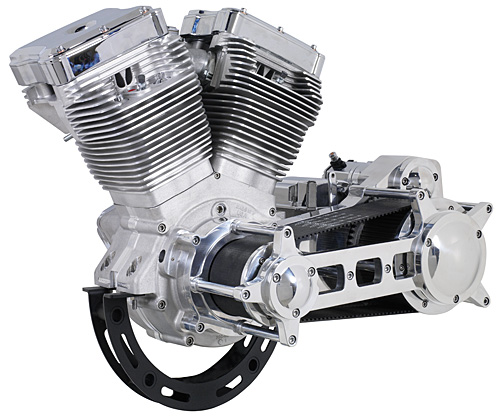 Ultima Elbruto 113 cu.in V-Twin driveline
from Jireh cycles. Includes 3.35 inch drag style open primary with outboard bearing support and Right Side Drive gearbox with hydraulic clutch. Ordered the black version. Place the order on a Friday and the transmission and primary arrived the following Wednesday. The motor would have been here too, but I changed my mind regarding EPA compliance. Initially ordered the competition series motor which is non-EPA compliant. The problem with this is that you can only build one bike in your lifetime that is non-EPA compliant and you can't sell it for 5 years after it is titled. Even though the EPA requirements don't appear to be enforced uniformly across all states and counties, it would be my good fortune to get stuck in the 5 year bind. Emailed Mike @ Jireh on Monday and he was able to stop shipment on the competition motor and make the switch to the more expensive (yes- compliance costs an extra $300) EPA complaint motor. The motor arrived on the Friday, exactly one week after the first order and 4 days after the change. I'll say it again - Jireh Cycles are excellent.
The motor arrives without any mounting hardware. This kit has all the required hardware to properly mount the motor. Ordered from Jireh $19.95 Elsewhere $29
Hand controls were a bigger problem than I expected simply because of style issues. There are many controls out there but I could only find one set that made style sense for the bike. The selected set has very low profile switch housings that make for a sleek modern look instead of the bulky Harley traditional style switches.
BILLET HYDRAULIC HAND CONTROLS SWITCHES BDL FIT HARLEY
BATTERY CABLE SET Ultima all FLH & FLT Dresser, Clear 1993 - Later Battery Cable Set Ultima all FLH & FLT Dresser, Clear Ground 13" Battery to Solenoid Starter - 14" (
Update
: too short! - needed about 19")
P/N 18-734 $20.99 elsewhere $27.99
http://www.jirehcycles.com/


Charging System w/ Late OEM Style Rotor for Harley
bk-rider (59045) $119 with free shipping. Elsewhere $139 and up
http://www.bkrider.com/
bk-rider (59844) $49.99 with free shipping. Elsewhere $79 and up to $96
http://www.bkrider.com/
Update - does not fit the frame. Will be flipped on ebay. Any takers?!
Spyke 454210 Swivelling Petcock
rmrobinson1911 2261) $59.95 with free shipping.
Elsewhere $82.44
The petcock arived without the outlet fitting.
Emailed the seller on Friday and received the missing part on Monday.
Now that's service!
For the oil lines, there are some high quality expensive options from Goodridge and Russell and some lesser expensive lines from Midwest. The lines from Midwest through Jireh Cycles run about $20 each (some less some more depending on the length). A very similar oil line system is available from Russell for around $32 each ( some more some less depending on the overall length)
I finally pulled the trigger on the braille B129. Purchased through Summit Racing for $149. Added a battery tender to the order. The B129 fits nicely in the battery box and there is space down the front of the battery to run the battery cables. The cable to the starter needs to be about 19 inches. The battery needs to have a capacity of at least 270 cold cranking amps (CCA) for the starter. The battery box embedded in the oil tank of the War Eagle frame is tiny and designed for a Harley V-Rod battery.

The internal throttle will keep the throttle cables from hanging down from the handlebars. The plan is to run the cable inside the handle bars and exit from the bottom for a clean look. Purchased from Get Lowered Cycles on ebay. $84.98 with free shipping. Elsewhere much the same.
http://stores.ebay.com/Get-Lowered-Cycles?_trksid=p4340.l2563
The filter mount is the more traditional style I should have purchased the first time. $34 from
Jireh
. Elsewhere $44 and up.
Agonized for days about the oil lines. It is difficult to figure out what's important and what's not when you don't have experience with this kind of stuff. Here's the Jireh Cycles order for the oil lines. Once the regulator arrived I could finalize the line lengths. I was lucky here - my estimates worked. You can build lines yourself and cut to the exact length you need, but there is no DOT approval for doing it yourself. I have no idea whether DOT approval is needed or not but decided that it can't hurt and the lines look good.
Gas line, brake line and associated fittings. I estimated the lengths needed with 3/8" vinyl tubing. This works out quite well since the vinyl line approximates the bends of the real thing to some extent.
http://www.jirehcycles.com/
Dakota HLY-3015 Speedo/Tachometer/Odometer. This is an expensive item but in my opinion one of the nicest gauges on the market. I found a good deal on ebay. elvisoldguy (498) $375 + $10 shipping. Elsewhere $423 and up.
http://stores.ebay.com/Beach-Customs-Motorcycles?_trksid=p4340.l2563
The gauge needs a housing. Found a housing at roughly half price from dakota digital ebay store. dakdig ( 359 ). $39.95 with free shipping. Elsewhere $79 and up.
http://stores.ebay.com/Dakota-Digital-Inc?_trksid=p4340.l2563
Seems absurd but the bracket for mounting to the handlebar costs more than the gauge cup. ebay usmotoman (5613) $65 with free shipping.
http://stores.ebay.com/USMOTOMAN?_trksid=p4340.l2563
Chrome Billet Fender Spacers for Wide Glide Front Ends
Used to install the narrow fender on the Wide Glide front ends.
1-1/8" wide with 2-3/4" mounting hole spacing.
demonscycle ( 65566) $59.99 with free shipping
Set of 2
Panther 1-1/2" 139 Tooth Drive Belt. $139 from demonscycle (63188) with free shipping.
Big Growl Exhaust Pipes P/N 60-301 from
www.jirehcycles.com
$104. Elsewhere $189
Exhaust Flange Kit from ebay user
henleyskustompaintinginc129
$27.99 with free shipping.
Chrome Rear Brake Line Tee with AN-3 fittings and 1/8 NPT for a hydraulic brake switch.
This is the second brake tee. The first had a 3/8-24 thread female port - the hydraulic brake switch requires 1/8 NPT.
Transmission speed sensor for the Dakota speedometer. This is not the Dakota original part.
Billet Aluminum Speed Sensor for 1996+ Harley Big Twin
bk-rider
( 71097)
$52.99 + $6 Shipping
Latching headlight relay to allow use of a momentary pushbutton for switching between hi beam and lo beam. This relay is a standard VW part 111-941-583.
sourceauto
(2129) $24.95 + free shipping
Hydraulic Brake Switch
sampowersports1
(36810 ) $13.99 + free shipping
http://www.wirecare.com/products.asp?prodline=SSL
Techflex Flexo Stainless XC stainless steel braid and ultra clear heatshrink. The braid will be used to dress up and protect exposed wiring. The heatshrink will be used in painted areas to protect the paint from the abrasive nature of the stainless steel braid.
Techflex 5/16" Chrome XC Mylar Sleeving 25 ft.
Parts Express $12.82 for 25 feet
This is mylar that looks like chrome plated steel braid. Bought it to try it out. I have other projects that could use this. Not sure when I'll get to these other projects.
Stock style footpeg supports for Harley.
bk-rider

(
75373

)
$12.99 + $6 shipping
Turn Signal Relocation Fork Clamps for 41mm front forks.
sampowersports1
( 38529

)
$19.99 with free shipping
There is no wire exit hole for these clamps. The hole through which the turn signal mounts was also too small and had to be drilled out to 3/8 to fit the turn signals below.
Turn Signals - Red for Rear, Amber for front. Red Chrome Bullet Light Pair - Smooth.
sampowersports1
( 38529

)
$21.99 Per pair with free shipping.
Chromed Metal Construction, 12 volt, 23 watt bulb included.
They measure 3" long x 1 1/2" wide with a 5/16" mount stud
. They are very sturdy and well made.
3/8" 24x60" Neoprene Sponge Anti Fatigue Floor Mat. This is for the seat padding.
lewellyn390
( 28702

)
$13.50 with $6.25 shipping.
Ordered single stage urethane paint and epoxy primer from
Eastwood
.